Who God (the Trinity) is:
The one true God is Three Persons, each fully God.
God is love.
Can anyone explain everything about God?
The word "Trinity" isn't in popular English Bibles.
This is what the Bible says about the one true God, the Trinity: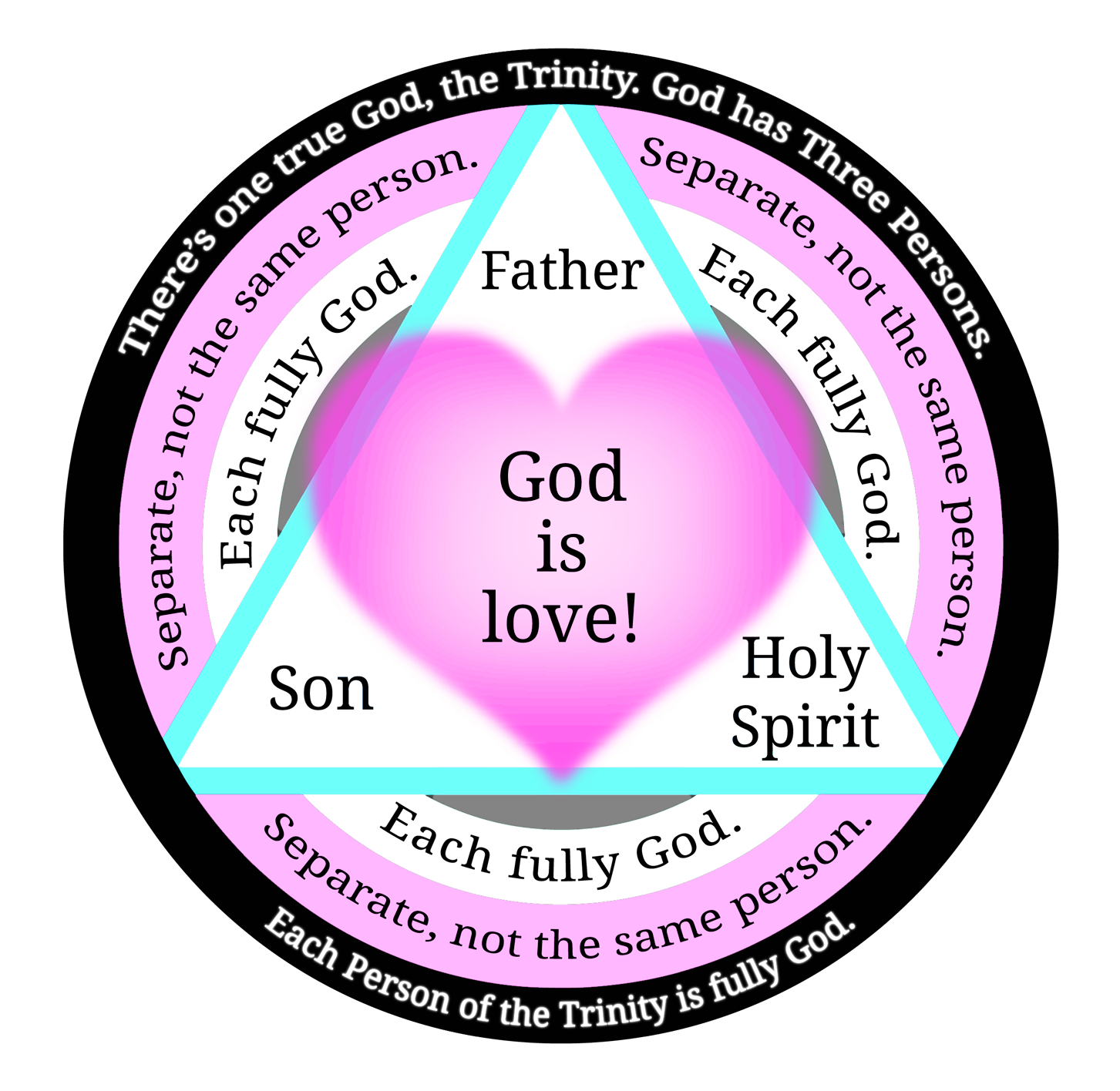 There's one true God.
Then people all over the earth will know that the LORD alone is God and there's no other. (1 Kings 8:60)

---

He showed you these things so you would know that the LORD is God and there's no other. (Deuteronomy 4:35)

---

One God and Father of all, who's above all, in all, and in you all. (Ephesians 4:6)

---
God has Three Persons.
Each Person is fully God.
That the God of our Lord Jesus Christ, the Father of glory, may give you the spirit of wisdom and insight, so that you may know him better. (Ephesians 1:17)

---

For through him we have access to both the Father by the same Spirit. (Ephesians 2:18)

---

So go, teaching all the nations, baptizing them in the name of the Father, and Son, and Holy Spirit. (Matthew 28:19)

---
---
God's Eternal, with no beginning or end.
Before the mountains were born, before you gave birth to the earth and world, from everlasting to everlasting, you are God. (Psalm 90:2)

---

I am the Alpha and the Omega, the beginning and the end, the first and the last. (Revelation 22:13)

---

Have you never known? Have you never heard? The LORD is the everlasting God, the Creator of all the earth. He never grows weak or weary. His understanding is unmeasurable. (Isaiah 40:28)

---
God can love. God is love.
We know how much God loves us, and we've put our trust in his love. God is love. Whoever lives in love lives in God, and God lives in them. (1 John 4:16)

---

Whoever doesn't love doesn't know God; because God is love. (1 John 4:8)

---

This is how God showed the amount he loved us: He sent his only Son born from human birth into the world, that we might live forever through him. This is real love: not that we've loved God, but that he loved us and sent his Son as a sacrifice to take away our sins. (1 John 4:9-10)

---
God can hate.
God hates me.
God has wrath.
He repays his haters to their faces, punishing and destroying them: he won't be slow with his hater... repaying him to his face. (Deuteronomy 7:10)

---

All their wickedness began at Gilgal, I began to hate them there: I'll drive them from my land because of their evil actions. I won't love them anymore, all their leaders are rebels. (Hosea 9:15)

---

The foolish shall not stand in your presence. You hate all who do wrong. (Psalm 5:5)

---
---
God's truthful. God is truth.
Jesus answered, "I am the way, the truth, and the life. No one can come to the Father except through me. (John 14:6)

---

In hope of eternal life, which God, who cannot lie, promised before the world began. (Titus 1:2)

---

So God has given both his promise and his oath. These two things are unchangeable because it's impossible for God to lie. So we who've fled to him for refuge can have great confidence as we hold the hope set before us. (Hebrews 6:18)

---
---
God gives mercy.
The LORD is good to everyone. He showers compassion on all his creation. (Psalm 145:9)

---

The Lord isn't really being slow about his promise, as some think. No, he is being patient with you. He doesn't want anyone to be destroyed, but wants everyone to repent. (2 Peter 3:9)

---

The faithful love of the LORD never ends! His mercies never stop or fail. (Lamentations 3:22)

---
God gives grace.
(Grace is more than mercy).
But he has given each of us grace according to the measure of Christ's gift. (Ephesians 4:7)

---

But he gives more grace generously. As the Scriptures say, "God opposes the proud but gives grace to the humble." (James 4:6)

---

Being made right in his sight freely by his grace through the redemption that's in Christ Jesus. (Romans 3:24)

---
---
God's good.
Surely your goodness and mercy will follow me all the days of my life, and I'll dwell in the house of the LORD forever. (Psalm 23:6)

---

They'll celebrate the memory of your abundant goodness; they'll sing about your righteousness. (Psalm 145:7)

---

The LORD's good and does what's right; he shows the proper path to those who go astray. (Psalm 25:8)

---
God's fair.
Then Peter opened his mouth, saying: "I now realize clearly God doesn't show favoritism. (Acts 10:34)

---

Anyone who does wrong will be repaid for their wrongs, there's no favoritism. (Colossians 3:25)

---

For the Son of Man will come in His Father's glory with His angels, and then He will repay each one according to what he has done. (Matthew 16:27)

---
God's just.
For I the LORD love justice, I hate robbery and wrongdoing. I will faithfully reward my people for their suffering and make an everlasting covenant with them. (Isaiah 61:8)

---

What will we say then? Is God unjust or unfair? Not at all! (Romans 9:14)

---

To twist justice during a man's lawsuit or anytime in court, the Lord doesn't approve. (Lamentations 3:36)

---
---
God's holy.
"What do you want with us, Jesus of Nazareth? Have you come to destroy us? I know who you are, the Holy One of God!" (Mark 1:24)

---

And they were calling out to each other: "Holy, holy, holy is the LORD of Heaven's Armies: the whole earth's filled with his glory!" (Isaiah 6:3)

---

Since it's written: "Be holy, because I'm holy." (1 Peter 1:16)

---
God's righteous.
Christ suffered once for our sins. Righteous, he never sinned... but died for unrighteous sinners to bring you to God. He suffered physical death, but was revived by the Spirit. (1 Peter 3:18)

---

My dear children, I write these things to you so that you'll not sin. But if anyone does sin, we have an advocate with the Father, Jesus Christ the righteous. (1 John 2:1)

---

O LORD, you're righteous, and your fair laws are right. (Psalm 119:137)

---
---
God's perfect.
Humans can't have what God demands (to be perfect).
God's way is perfect. All the LORD's flawless words prove true. He's a shield for all who look to him for protection. (2 Samuel 22:31)

---

So be perfect, just as your Father in Heaven is perfect. (Matthew 5:48)

---

He is the Rock, his deeds are perfect. Everything he does is just and fair. A God of faithfulness who does no wrong; how just and upright he is! (Deuteronomy 32:4)

---
---
God knows everything.
God knows Himself fully, too.
Great is our Lord! His power is limitless! His understanding is infinite. (Psalm 147:5)

---

Even if our hearts condemn us, God's greater than our heart, and knows everything. (1 John 3:20)

---

You search my path and my lying down; You're aware of all my ways. Before a word's on my tounge, you know it completely. (Psalm 139:3-4)

---
God stays the same. God never changes.
But you remain the same; you will live forever. (Psalm 102:27)

---

I am the LORD, I don't change. That's why you descendants of Jacob aren't already destroyed. (Malachi 3:6)

---

Jesus Christ is the same yesterday, today, and forever. (Hebrews 13:8)

---
---
God's power is unlimited.
I know you can do anything, nobody can stop your purposes. (Job 42:2)

---

When Abram was ninety-nine years old, the LORD appeared to him and said, 'I am God Almighty; Serve me faithfully and be blameless. (Genesis 17:1)

---

Jesus looked at them and said, "With men, it's impossible. But with God, everything's possible." (Matthew 19:26)

---
---
What God did for sinners:
The good news: God the Son, Jesus Christ, died (paying our sin penalty), got buried, and was risen to live again.

Jesus paid your sin penalty... trusting the gospel promises Heaven.

We can't earn Heaven by doing good. Nobody deserves Heaven.
Heaven's a free gift most reject. Heaven doesn't cost money.
Only trust the good news alone for Heaven. Trusting more for Heaven is a false gospel.